By its definition, ERP stands for Enterprise Resource Planning. ERP software solutions are utilized across a manufacturing facility by integrating with production, the shop floor, and purchasing. Still, many manufacturers already have an MRP (Material Resource Planning) system in place that accomplishes the same goal. The differentiating factor between these two systems is the data.
Why Should I Consider Custom Manufacturing ERP Software?
Every manufacturer with a dedication to quality utilizes an ERP software solution. At its core, a custom ERP software solution is a hub for your product's life cycle. So if you're struggling for an insight into your manufacturing analytics or want the evidence to support your next improvement, you need a custom ERP system.
Gartner gathered a comprehensive list capabilities of ERP software (shown in Figure 1.1), which can improve business processes, including organizations within the manufacturing industry.
Complete Unification Of Processes & Systems
ERP systems work to unify the technologies that all work together to get a product from the order to the truck. For example, there could be tons of systems in place to receive orders and track inventory, pieces of paper moving around the shop floor, even remote terminals and machine controls, all of which have a purpose. To an ERP system, every workstation is important, and by treating them all with an equal sort of weight, we can unify the processes at work to measure aspects of the greater system.
Reducing Possibility Of Duplication
When an ERP system is brought into play, each step in the process of completing a product becomes registered. This gives you a sort of an IDs that you can use at any step of the process. This minimizes redundancy because there is a single source of truth. When a product is run with an ERP system, it will likely not be run again because the order is at the next step already. Manufacturers use these IDs as barcodes to scan, so there are no more issues with accounting.
Increased Efficiency Through Automations
With automated tagging in an ERP system, the next logical step is to begin leveraging that automation to increase your efficiency. You can utilize those same IDs to control what sort of machine is used for a given product or the tooling that has to be used at a given work center. All of these are steps to digitizing the whole manufacturing process. As there is more integration with your ERP system, you will see fewer human errors, and when they occur, you'll be able to see exactly where.
Prioritizing Application Modernization
As an ERP system is brought into use. it will become more obvious that the fewer systems that cannot be run the same way, the better. You'll quickly find simple things like PC versions to provide minor inconveniences, whereas the older versions don't offer as many features. This is a symptom of good change. An ERP system shows where your pain points are, even if it's an IT problem! Getting your PCs on the same versions, operating systems, and all your hardware up to date will not only breathe life into your devices, but ensure that you can harness all the power your ERP solution offers.
Centralized Information
With mountains of data being cataloged, one of the most obvious benefits of an ERP system is centralized information. Everyone from higher-ups to folks on the floor to executive managers in an office can quickly look and visualize how well a process is being completed. Managers find it easier to analyze the data and see where best to allocate workers for the upcoming week's schedule. Financial employees now have real measurements for accounting purposes.
Functionality & Flexibility For The Future
One of the safest reasons to have the all-in-one ERP system is that a centralized workflow is easy to change when it has to. For instance, if there's a significant change in the manufacturing process, it doesn't mean you have to leave your ERP behind or start from scratch. Because of the simple idea of workstations and processes with inputs and outputs, remapping the existing ERP to a new type of line can be a breeze.
The manufacturing industry can sometimes be slow to adapt to new technologies and changes for a variety of reasons. Regardless of whether the manufacturer wants to take things slow or move fast, the ERP will make it possible to have a flexible process and will provide clarity into the life cycle of a product.
Real-Time Data Reporting
Once an ERP system is in place, the benefits are huge. The one thing almost everyone loves the most are the reports that become available when a system is integrated. Right away, you'll be able to see real-time reports. You can see information about what products are running right now, or see a sort of schedule.
Maybe each morning, there's a report that goes out at the beginning of the shift to say what products are scheduled. Now, interested parties can get all sorts of valuable data delivered daily. These sorts of reports are just the tip of the iceberg of what ERP solutions can provide.
Improved Decision-Making Capabilities
ERP solutions can give insights that separate the winners from the rest in the world of data. No one can put a value on the ability to track manufacturing statistics, and being confident in the data that supports them.
The great thing about using ERP data is that it's tied into the daily process. You're sure you have valid data because the ERP system is tied into the warehouse where the inventory is used to make it. You know the order was completed because that's the only way it makes it onto the truck.
Reduction Of Process Bottlenecks Or Inefficiencies
With confidence in data quality, you can look at long-term metrics like how a product has run over a longer period. ERP systems naturally pair well with manufacturing statistics, such as Overall Equipment Effectiveness (OEE), that engineers use to determine how well a process is performing.
What makes ERP systems valuable is hard to measure. The data itself isn't worth anything unless you use it and build it into the product's life cycle. The value is in the behavioral change that you'll see once the process is adopted. There will be less confusion and fewer human errors, which means you will have a more efficient, safer process. Operationally, shift leads are empowered to move workers to address bottlenecks.
Every good leader wants to see the data. They want to know how their crew is performing compared to the other groups. Gamification is a proven strategy, and a great way to initiate the sharking of knowledge between more experienced workers and rookies. For example, when a group sees that they always perform a little slower than the night shift, maybe you can start a friendly discussion as to how they're optimizing their performance.
Enhanced Quality Assurance Checks
In terms of quality, unit tracking benefits a great deal from a well-implemented ERP system. If it's a batch, a lot, a piece, or a part, you can build in that level of detail in your ERP. When a run is completed, and the total count is tallied, maybe it's entered into the ERP system. Now, a quality engineer can see in their office that an order is ready for a quality check. In order for them to pass on to the next step in the ERP, they need to enter vital dimensions to ensure the product is within specification.
Now that it's been completed, that product run, and that dimension check, will always be saved, so that if there's a problem when the customer receives the product, you can quickly and easily reference the inspection. Even better, you could always make that data visible to your customers, even before the order has been shipped. This sort of clarity into a manufacturing process is what can bring your organization to the next level in the digital age, and your customers will thank you for it.
What To Expect When Implementing A Custom ERP System
When actually implementing an ERP system, the transition can be painful. As with any change, some people may resist at first, but it will become clear quickly that the benefits make the systems worthwhile. No one really wants to write down all those long product names and descriptions. Automation doesn't always take jobs away, and sometimes, it just makes some parts of the process a lot easier.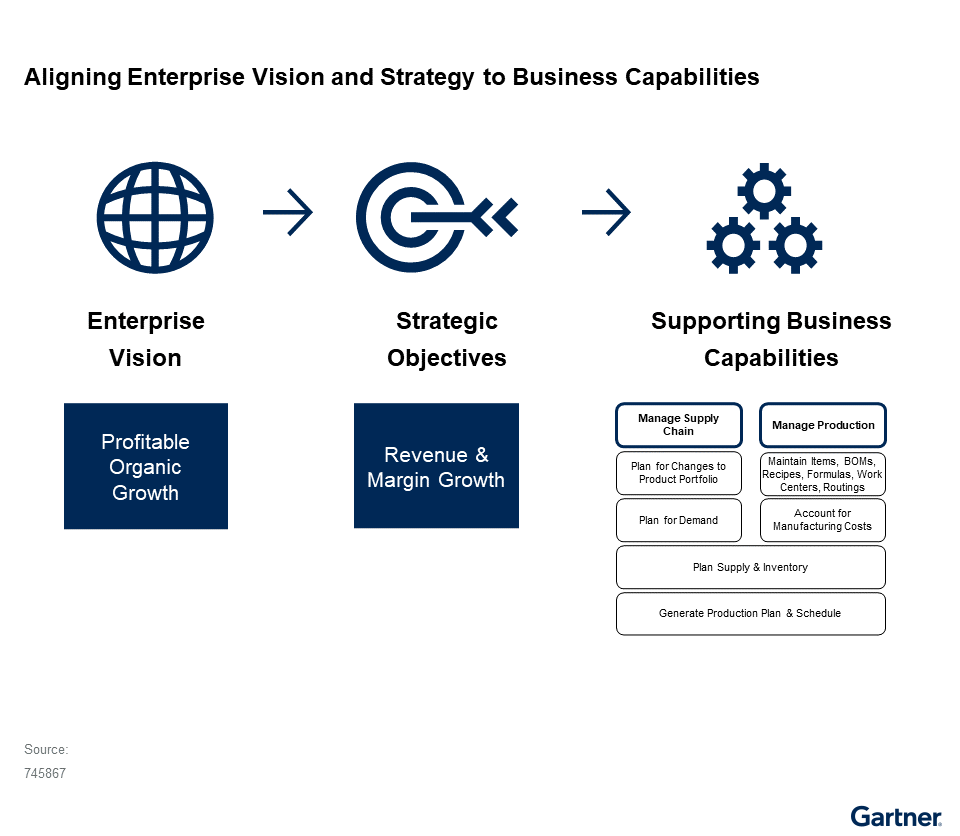 One of the most important aspects of implementing a custom ERP system includes having a clear alignment of the organization's vision and business strategy to the capabilities of the custom ERP software. Gartner's graph (Figure 2.1), shows the process of which an organization should align their vision and strategy, to the business capabilities of a custom ERP system.
Picking an ERP system generally puts you in one of three categories: cloud, on-premise, or hybrid. A cloud-based ERP system can provide manufacturers with a comprehensive yet flexible implementation. Cloud ERP companies are quick to offer continual support and free training. In addition, these providers have software developers on staff that can even implement your ERP for you, and ensure your software remains up-to-date. This is a great solution for manufacturing facilities that don't have the scale or need to hire software developers to help them with their ERP transition.
An on-premise ERP system offers the most control and ownership once implemented. You'll have less support from the software side, but this sort of choice is common for larger facilities that have a strong IT group, or if the facility has a poor connection to the internet. Just because the solution is on-premise doesn't mean you have to do it yourself. There are fantastic companies that help implement ERP systems from start to finish.
A hybrid deployment offers a combination of on-premise and cloud hosting for a manufacturing company. These ERP systems give users the flexibility to keep portions of the ERP on-site, yet allow sectors that don't need to be hosted at the facility to work online. For example, you could host financial data on the cloud rather than in-house.
Consult With The Custom ERP Software Developers At Orases
The determining factor is that an ERP system is only as good as its data, and to get good data, you need to have your ERP integrated into your daily manufacturing. Ensuring your system is adopted is a big enough task, so it's worth considering seeking help for the actual implementation of your ERP software.
Setting up and integrating an ERP can be a great challenge, so don't try it alone. The industry professionals at Orases are well-equipped to manage your specific needs. For more than 20 years, Orases has delivered efficient software solutions quickly. To implement your ERP system and see the benefits immediately, get in touch with Orases today.