Services
Android App Development
Tell us about your project.
We blend attractive design elements with impressive functionality and unparalleled user experience to create Android apps that get – and keep – users' attention.
View All Mobile Apps
Orases offers a broad range of Android app development services that encompass everything from original design and development to testing and support. Our end-to-end offerings can help you build an entirely new app or port an existing one to Android to enjoy the benefits offered by this platform.
Android Development
Android Mobile App Development
Android Tablet App Development
Android Watch App Development
Android TV App Development
Orases offers full-cycle mobile app development services. If your business already has a web application that you wish to bring to mobile, our team can recreate it with the Android landscape in mind.
Our experienced developers, designers and project managers will create seamless and practical experiences on Android and other platforms so you can reach a broad audience.
With Android's popularity on the rise, Android tablet apps are becoming essential tools for marketing, customer service and sales.
Our developers can produce scalable and highly customized apps that allow your business to take advantage of this segment of users.
At Orases, we create smart wearable solutions that engage your target audience and find innovative ways to make the most of this popular new technology.
Our Android apps for watches and other wearables allow you to connect easily with your customers and provide unique features, smooth functionality and custom appearances to give you a competitive edge.
Smart TVs have revolutionized the entertainment experience, and the need for intuitive and interactive Android TV apps is growing.
We can create cutting-edge solutions that offer a range of features that take advantage of this technology to help your brand conquer the TV space.
Benefits Of Our Android Applications
With its massive user base, growing share of the smartphone market, variety of devices and unrestrictive policies, Android is a great platform for creating your business's applications.
Applications Used Globally
There are currently more than 2.5 billion active Android devices, which means this platform has a tremendous global presence that cannot be ignored if you want to be successful.
As a free and open-source operating system, the entry barrier is relatively low and the app development process is somewhat easier, which can help reduce development costs and provide a nice return on investment.
Expansive Customization Opportunities
Android applications customizable nature provides developers with more opportunities to get the most out of the user interface and increase engagement.
Quick Approvals To Go To Market
Android apps also enjoy shorter and easier approval processes, which means a faster time to market and quicker modifications if needed.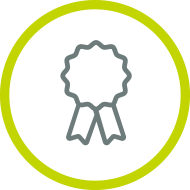 Our Credentials
Our Android application developers develop unique and responsive Android apps for organizations that are user-focused and looking to increase their ability to convert leads. None of this would be possible without our group of highly talented and hard-working team members.
We've always known how advanced and responsive our Android apps are, and over the years others have started to take notice as well.
View All Awards