We are a

Team

of One.

We want to hear from you.
Orases is not only proud of its team, it's grateful to support a team of professionals whose expertise, vision, loyalty and client commitment enables us to consistently deliver industry-leading and value-added solutions.
Orases believes great work happens when great people work together. Show us the greatness in you.
Our Culture
If you see something you like, let us know.
We have the opportunity, do you have what it takes?
Culture-Driven
Success
A sneak peak into a day in the life of an Orases team member.
Our Culture Book
To find out even more about the way we work and our values, check out the Orases culture book.
Find Out More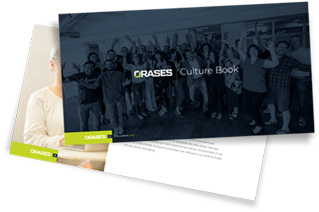 Why
join

the Orases team?

Benefits & opportunities that make you happy.
One Team Mentality
Our team shares successes and failures equally. We value team cohesiveness and team success above individual glory.
PTO
Healthy work-life integration is vital to working at your highest potential. We offer generous PTO even in year one to keep our employees feeling fresh and engaged.
Healthcare Options
We care about you and your family's health. We offer multiple choices for competitive healthcare plans as well as Health Savings Account options to fit your wellness needs.
401k Match
Our employees invest in the future of Orases, and we invest in the future of our team members with our generous 401k match.
Leadership Support
We are here to help you grow, will provide and receive feedback graciously and respectfully, and appreciate those that ask for help. It is our goal to help develop your skills and that means using your team and leaders for support in any way needed.
Fast-paced Career Path
We are growing and growth means greater opportunities for professional development and career advancement.
Wellness
We believe that wellness is more than just exercise and have a Wellness Team dedicated to help our team to be their best physical, mental, and emotional selves.
Bonuses
All full-time, non-sales team members are eligible for end of year bonus based on the company meeting revenue and profitability goals.
Education & Development
We put learning as a high priority and encourage our team to take advantage of all different kinds of training opportunities.
Profit From Company Success
Team success is the backbone of our success. Reap the rewards of company success with our profit sharing program.
Innovative Projects
Take advantage of the opportunity to work on some of the most innovative projects on the market.
Flexible Hours
We know that not everyone is a morning person. With our flexible work hours, team members have the opportunity to work during their most efficient times.
Work Space
Get things done – whether you work better at our office or prefer working some days from your office at home, excellence is what matters most.
Fuel Your Body
Our offices are stocked with fruits, beverages and many of your favorite tasty treats; we enjoy our kitchen for more than just snacking. There are some pretty tasty espressos there too.
Team Activities
This team works hard and plays hard. Take part in activities including dinners, game nights, passion events, where we share and demonstrate our hobbies, and much more.
Recharge Areas
Along with the ergonomically designed work space, recharge in the privacy of the meditation room, relax those tired muscles in our massage chair, get some fresh air in the outdoor eating area, play a round of ping pong, or just use a comfy couch when needed.
Phone a Friend
Sometimes, it really is who you know; spread the word about Orases and get paid once your referral joins the team too.
Free Benefits
Who says nothing in life is free? Whoever did, didn't work here. While you produce exceptional work, we pay your short and long term disability as well as offer life insurance at NO charge to you!
Hot Wheels
Need to move some mulch for your garden? Moving boxes into your new home? Feel free to use the super sleek Orases One for the day. It is a team member perk vehicle that not only gets the job done but looks pretty cool while doing so.
Internship

opportunities

Many of our current full time team members have started as interns. We usually offer 4 internships each year. Available internships will appear in the open job section above.

Learn More
Internships:
Office Manager
Business Analyst
HR/Recruiting
Software Developer
Location.
Location.

Location.

Check out our headquarters and location.
Work in a great city. Live in a great place.
One of the Maryland's largest cities, Frederick is home to people from all over, making it one of the region's most cosmopolitan and friendly places to live. With a great food scene, amazing breweries and distillers, sports teams, colleges and favorable cost of living, Frederick continues to be one of the most desired destinations for anyone looking to settle down without having to settle.
10 Things that Make Frederick a Technology Hub (and Why We're Happy to Be Here)
Home Of The Biggest Monthly IT Meetups In Maryland
Our office in Frederick, Maryland is home of TechFrederick and several Meetups. We have one of the largest monthly IT meetups in Maryland. This provides our team members with opportunities to enhance their coding skills and knowledge with top developers in the area. As 2020, TechFrederick has provided our community with nearly $1 Million dollars in advance software training.
Work hard.
Play

hard.

We're pretty good at having fun.