Services
iOS App Development
Tell us about your project.
Take advantage of one of the most popular operating systems by acquiring our unique and innovative iOS applications that take organizations to the next level.
Why Choose Orases?
At Orases, our team of experienced developers have been helping businesses of all sizes bring their operations to new heights with our iOS application development services. We create attractive and dependable apps for businesses across a broad range of niches that give users desirable features and flawless functionality to elevate their brand.
iOS Development
iPhone App Development
iPad App Development
Apple Watch App Development
Apple TV App Development
Orases develops iPhone apps that are on the cutting edge of mobile technology, allowing your company to get the most from the mobile market with efficient development and eye-catching designs.
We can take ideas big and small and turn them into intuitive and effective apps that will increase engagement and build brand loyalty.
Although iPadOS is a relative newcomer, it is worth making the effort to support this operating system because it brings some desktop features to the iPad that users appreciate, such as multiple window support, drag and drop, desktop-style Safari browsing and the ability to access folders and files from external sources.
Our iPad app developers deliver high-quality web applications that will work flawlessly with iPadOS and take advantage of all its groundbreaking features.
Orases can turn your wearable app concept into an effective and meaningful product that will boost brand awareness and drive customer satisfaction.
We focus on designing an engaging user interface with personalized notifications and other features that make the most of what wearable technology has to offer.
We offer branded Apple TV apps to businesses looking to grow their viewership and expand their reach. Our immersive tvOS apps can help you gain an edge in the future of television.
Orases also develops apps for recent major releases of macOS, such as Yosemite, Sierra and Maverick.
Benefits Of Our iOS Applications
iOS mobile app development can give your business an edge over the competition given the immense popularity of this operating system. Apple products are used by more than a billion users, which means you can expand your reach substantially by targeting this sector of users.
Unparalleled Consumer Experience
iOS provides a great consumer experience, and you can leverage Apple's excellent hardware and customer support to present your business in the best light.
Apple's rigorous approval process means that users are confident in the apps they find in the App Store.
The intuitive Apple interface makes it easy to get user experience right so your app will be enjoyable to use.
Highest Level Of Security
The security offered by iOS is unparalleled, which can benefit all types of apps, especially e-commerce apps that will involve customers making online payments.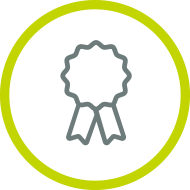 Our Credentials
Our iOS application developers design and develop unique and responsive iOS applications for businesses that are user-focused and wanting to increase their ability to convert leads. None of this would be possible without our group of highly intelligent and hard-working team members.
We've always known how sleek and responsive our iOS apps are, and over the years others have started to take notice as well.
View All Awards