In today's fast-paced and rapidly changing business world, managing manufacturing production schedules can be daunting, especially when done manually. That's where production scheduling software comes in, providing a range of features and benefits that can help businesses optimize their production processes, improve efficiency, and reduce costs.
Today, we'll explore some key features and benefits of production scheduling software and how it can transform production operations for manufacturers. With the right solution behind your manufacturing business, like one custom developed by Orases, you can improve your efficiency and thrive in the digital age.
What Is Production Scheduling?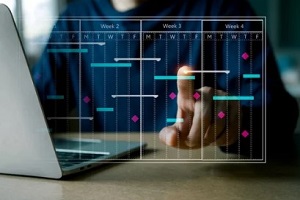 Production scheduling is a complex task involving strategically allocating various resources, such as labor, materials, and machinery, to manufacture goods for customers. The ultimate goal of production scheduling is to determine what needs to be produced, when, and on which machine to ensure a smooth production process.
The production schedule must be accurate and feasible for a production process to run smoothly. For instance, if the schedule shows the production of 20 units, but the machinery can only produce 10 units due to capacity constraints, it can lead to delays and, ultimately, unsatisfied customers.
Moreover, minimizing production costs and time while meeting customer demands is one of the primary challenges in production scheduling. The process becomes even more challenging when complex manufacturing processes are involved, and finding the most optimal production schedule becomes critical.
What Is Production Scheduling Software?
Production scheduling software, like a custom solution from Orases, has become an indispensable tool for planning and allocating resources to production processes. This innovative software leverages advanced technologies, letting organizations optimize resource utilization, reduce manufacturing cycle time, and deliver products to customers on time.
By using production scheduling software, businesses can efficiently allocate equipment, inventory, and human resources to ensure that production processes run smoothly. The software uses advanced algorithms to predict demand, analyze capacity constraints, and generate accurate schedules that minimize costs and increase efficiency. Ultimately, production scheduling software is an essential tool that allows organizations to optimize their production processes and deliver high-quality products to customers on time.
The Features of Production Scheduling Software
Production scheduling software comes in many different variations, with various modules and accessories to choose from. However, there are several standard features that are commonly found in this type of platform.
It's worth noting that just because a module is considered standard doesn't necessarily mean it's the best fit for your facility. Some of the more common features found in production scheduling software include:
Improved Production Scheduling
As the name implies, production scheduling is a core feature of production scheduling software. It involves visually scheduling jobs, projects, and tasks based on resource availability and constraints, among other factors. The software allows for real-time automated schedule adjustments in response to changes in work orders, inventory levels, and detected issues such as unplanned downtime.
Production scheduling software also enables the scheduling of complex process flows with dependencies, such as operations that should start or finish simultaneously or operations that should start when another operation is finished. The software also provides production routings, priority scheduling, and color-coded jobs to quickly identify their status as on-time, late, or near late.
Furthermore, production scheduling software includes production schedule templates and dynamic rescheduling capabilities using drag-and-drop functionality. This allows organizations to adjust schedules quickly and easily optimize production processes.
Improved Production Tracking
Production tracking is a crucial aspect of production scheduling software. It involves tracking various production resources such as workers, equipment, raw materials, and incoming components from suppliers. The software also tracks job status and prioritizes sequence to ensure production progresses smoothly. Organizations can also track production progress, queues, and equipment data, such as availability, performance, and condition.
Production tracking also enables organizations to track various production data, such as the number of parts produced, defective parts, and rejection reasons. By tracking these metrics, businesses can identify areas that need improvement and optimize their manufacturing processes. It also provides a way to track manufacturing costs, allowing organizations to manage expenses and maximize profitability.
Improved Production Planning
Production scheduling software allows for effective planning and allocation of resources in manufacturing. It provides visual planning tools such as calendars and Gantt charts to help organizations plan raw materials, workforce, operations, repairs, and shipments.
The software considers capacity constraints when planning production and determines the availability of workstation capacity. Additionally, it schedules tasks for equipment based on their run rates to maximize optimal performance.
Improved Labor Management
In addition to production scheduling, tracking, and planning, production scheduling software also improves and facilitates effective labor management. It automates the process of assigning employees to production steps and lets production managers create tasks for employees.
Employees can access their individual work schedules from their mobile devices, and the software provides an easy way to track employee shifts. Streamlining the labor management process helps organizations optimize their workforce and increase productivity.
Improved Inventory Management
Production scheduling software also includes inventory management features. These features allow organizations to create and manage bills of materials (BOM) and track inventory levels of parts and materials.
Production scheduling software also facilitates tracking of stock movements, batch and serial number tracking, and setting and optimizing stock levels. In addition, it provides a comprehensive history of stock operations and tracking expiry dates, helping organizations manage their inventory efficiently.
The Benefits of Production Scheduling Software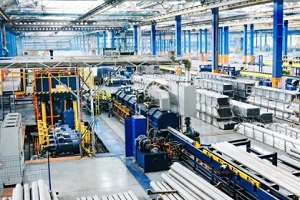 As businesses evolve and grow, optimizing their operations and streamlining production processes becomes increasingly important. One key aspect of achieving this is through the use of production scheduling software, which can bring numerous benefits to businesses of all sizes and across all industries.
With the help of production scheduling software, businesses improve their overall operations and stay ahead of the competition. Some of the key benefits that production scheduling software can provide manufacturers include:
Ensure On-Time Delivery
With the help of production scheduling software, you can guarantee the timely delivery of your products by planning weeks and even months ahead based on customer demand. Jobs are scheduled only when the required resources have enough capacity and labor is available, assuring that the production schedule reflects what can realistically be achieved on the shop floor. This eliminates the risk of overpromising orders and ensures you can promptly fulfill customer expectations.
Improve Communication
Production scheduling software offers a significant advantage in terms of enhancing communication within an organization. It serves as a unified communication tool for manufacturing plans, ensuring that the production schedule is presented in a clear and understandable format that you can easily utilize throughout the company. In addition, a sophisticated planning and scheduling system that includes visual scheduling and grid-like views enables all departments to easily comprehend the production schedule.
Improve Operational Efficiency
By utilizing production scheduling software, you can save considerable time that staff would otherwise spend on the tedious and error-prone task of manually scheduling jobs on a spreadsheet. The software generates your schedule automatically based on customer orders and demand forecasts and assigns jobs to eligible resources without any intervention required from the scheduler.
This automated process enables quick adjustments and schedule optimization in response to changing demand signals, maximizing facility throughput and meeting customer demands efficiently.
Provide Differing Degrees of Scheduling
There are different levels or types of scheduling that businesses can implement to manage their production processes. These scheduling methods include specifying work orders, collaborating with team members, and utilizing digital kanban pulls. Each method offers unique benefits and can be tailored to an organization's specific needs.
Increase Scheduling Visibility
By utilizing production scheduling, you can gather valuable insights about your production line and shop floor, leading to improved visibility and the ability to detect bottlenecks early on. Furthermore, this system can alert you to potential obstacles, allowing you to address them proactively before they escalate into major issues.

Implement Lean Manufacturing
By implementing lean manufacturing principles, you can achieve efficient production and rapid turnaround times by optimizing the utilization of employees, machinery, and tools.
This means that you are utilizing the ideal amount of resources to achieve the desired output while minimizing waste and improving overall productivity.
Streamline Your Operations With Production Scheduling Software
Production scheduling software provides manufacturers with a comprehensive solution for efficient production scheduling, inventory management, and resource allocation. The software enables real-time automated schedule adjustments, scheduling of complex process flows, and tracking of inventory levels and movements, among other features. If you're looking for a trusted partner to help you, look no further than Orases.
We understand the unique needs of manufacturers and their desire for tailored solutions, which is why we specialize in developing custom production scheduling software solutions designed to meet manufacturer's unique and often specific needs. As a result, our developers can rapidly build custom software solutions that help them optimize their production processes, reduce costs, and meet customer demands.
With Orases as your partner, we will customize your production scheduling software to your exact requirements. Furthermore, with over two decades of experience, we have the insight you need to deliver the results you deserve. To learn more about how Orases can design your custom scheduling software for you and your customers, reach out today.